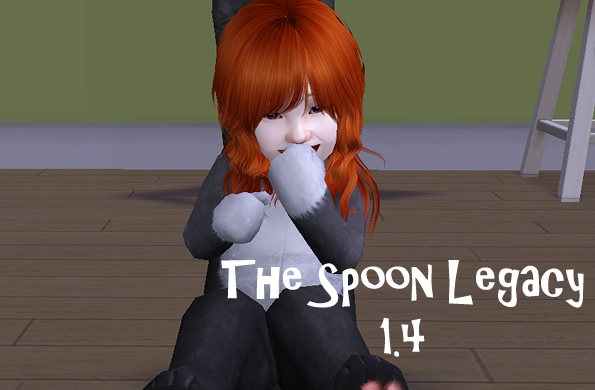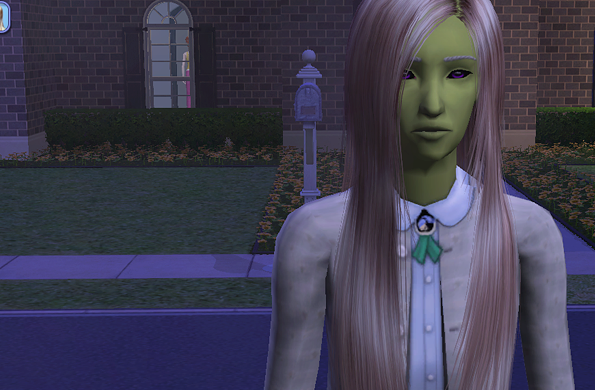 So, because I didn't learn my lesson the first time, have an alien babysitter.
She's at least pretty.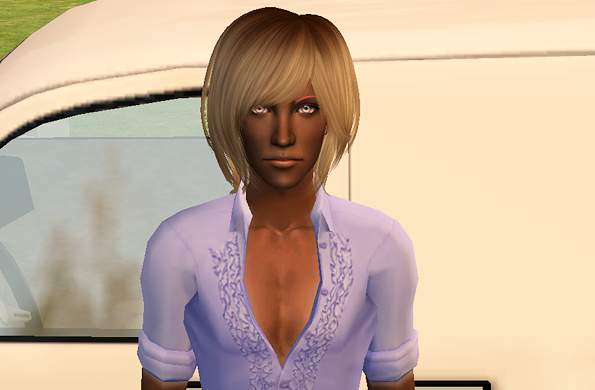 The maid came later. Nice brows, I wonder how you swing.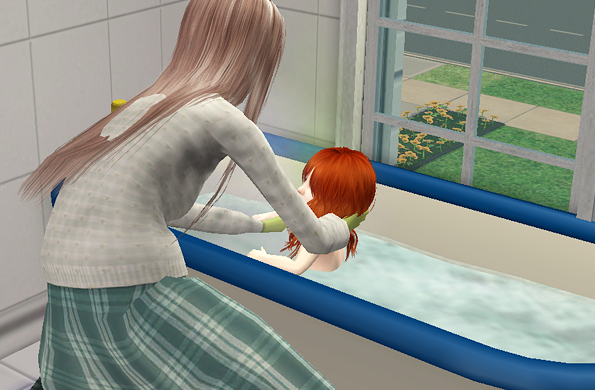 O___o
WHAT'S THIS.
She's BATHING her? When she actually NEEDS it?!
Oh, we are SO keeping you.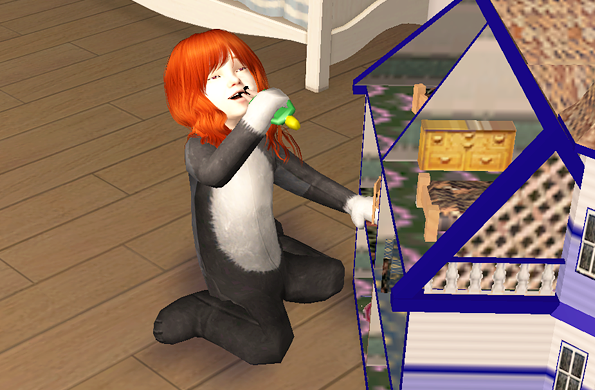 And Lentil agrees. <33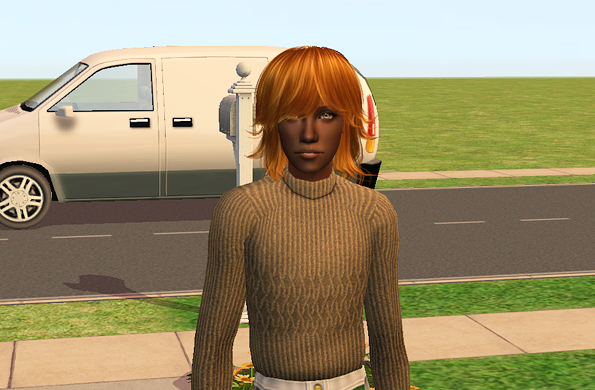 Hey. Who are you?
Ginger Malfunction
: Oh, I'm Paprika's boytoy. 'Sup?
Uh, great. Carry on. And what the hell are you wearing?
Last I remembered, gym shorts don't go well with turtlenecks.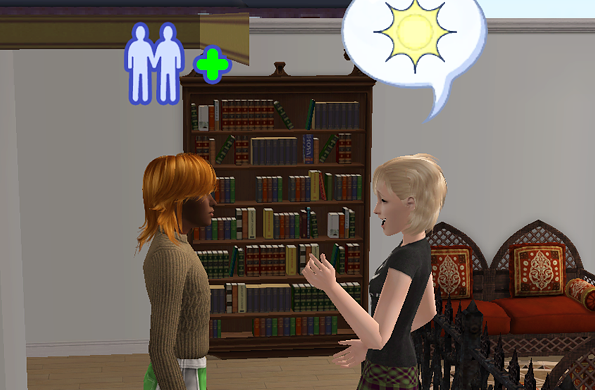 Paprika
: Was the sun in your eyes when you got dressed this morning? HAHA, you fail.
Ginger Malfunction: 8|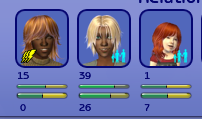 Oshi.
Paprika
: Look, I'm sorry for earlier. I do find wardrobe maladies irresistibly sexy.
Ginger Malfunction
: Well, well, about
time
you noticed.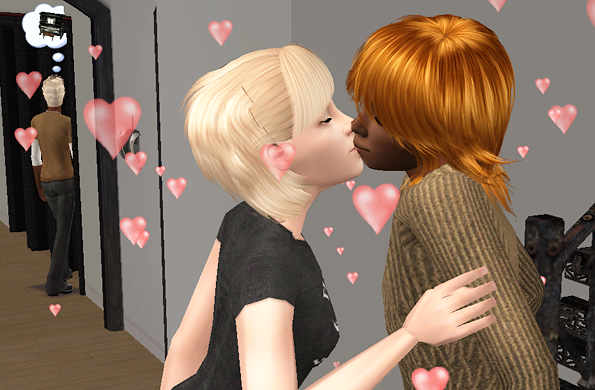 Steven:
What's that weird piano music coming from all of a sudden?
Paprika and Ginger:
*smoochies*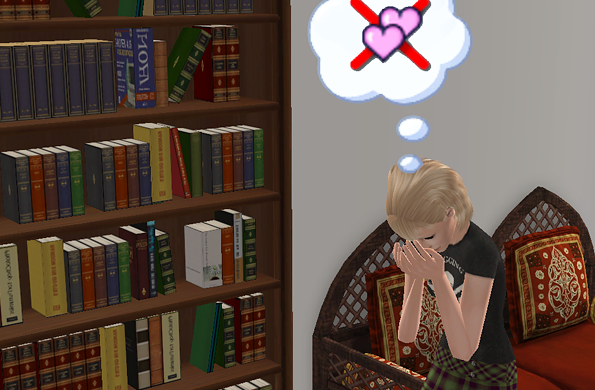 Then she asked him to go steady.
He denied her and left.
YOU ASSHOLE, GINGER. I'm sorry, bby. D:
Paprika
: *sniff* Whatevs. I...I can still kill him for BREAKING MY HEART.
Whatever makes you feel better, sweetheart.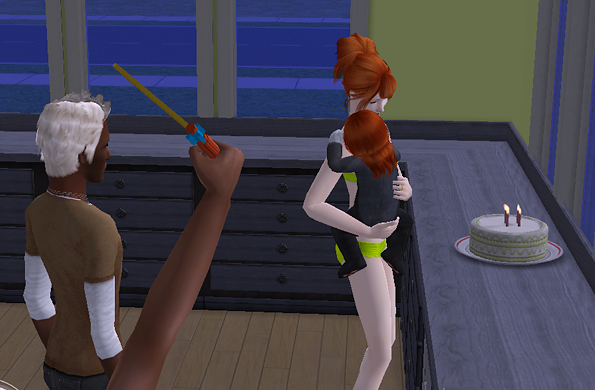 Time to sweeten the pot. It's birthday time!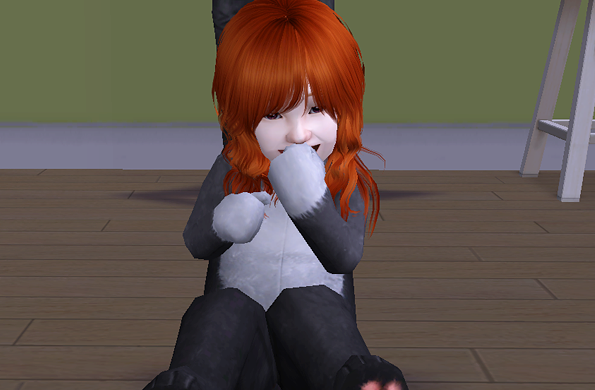 Lentil
: Am I gonna be pwetty? *noms fingers nervously*
Don't you worry. <3 I'm sure you'll be beautiful.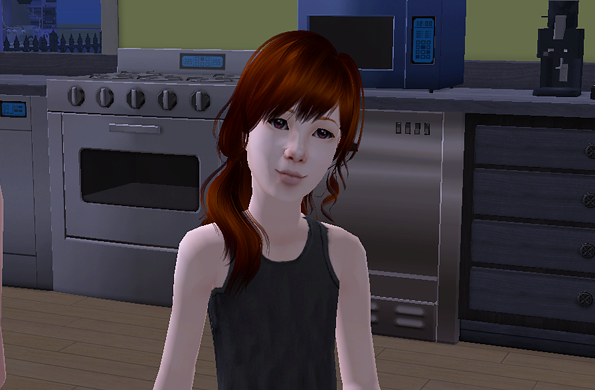 CUTE, I DON'T EVEN.
She's pushing it for heir. I'm not even joking.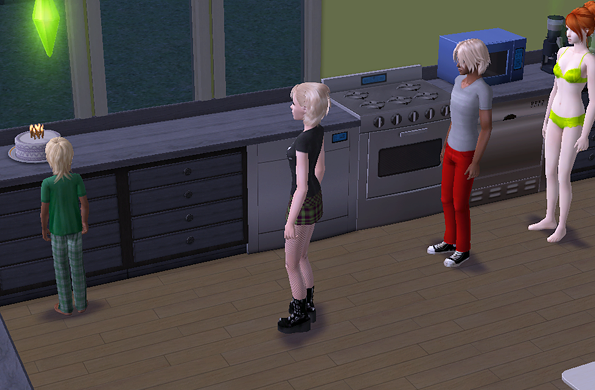 Onion's turn.
....Olive? Do you do anything in normal clothing anymore?
Olive
: What, is my olive green underwear offending you? >.>
No, it's just that this is your son's birthday party. He's too young to know about strippers yet.
Onion
: Can you two STFU so I can age?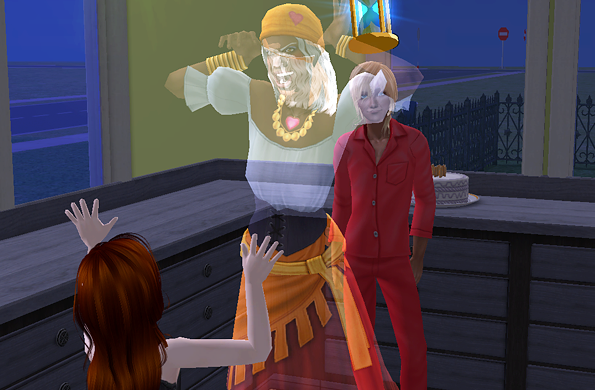 Whoa, looking good there, OnioAAAAAAUGH
Lentil:
WHAT IN THE EVER LIVING FUCK
Gypsy Fug
: TROLOLOLOL BITCHES!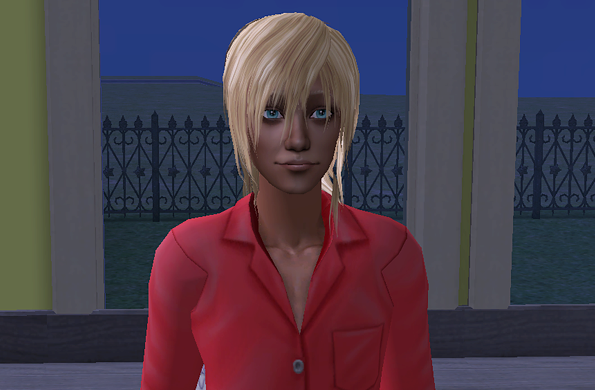 Onion
: Ghost. Yeah. Okay. Sweet. :)
Lentil
: Do. Not. Want.
I concur.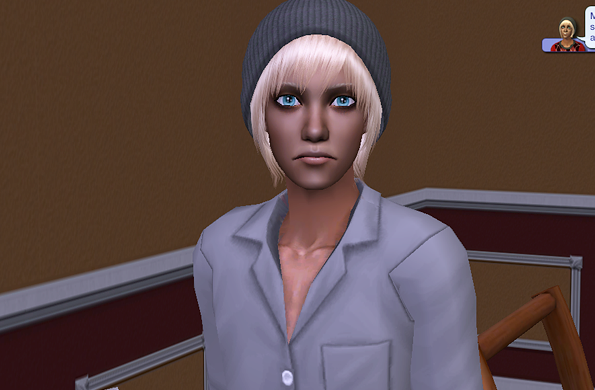 As I thought - genetic clone of Chives.
However, he's quite the vacant-eyed emo kid in his teen years. Maybe it's all the sleep he
never got as a toddler.
Chives' default expression: 8D
Onion's default expression: 8|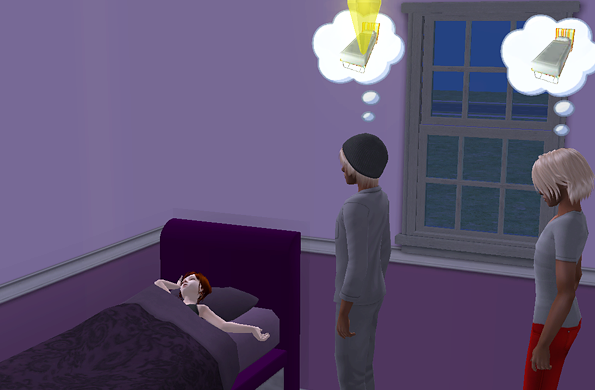 YOU BOTH HAVE YOUR OWN ROOMS AND YOUR OWN BEDS. USE THEM, DAMMIT.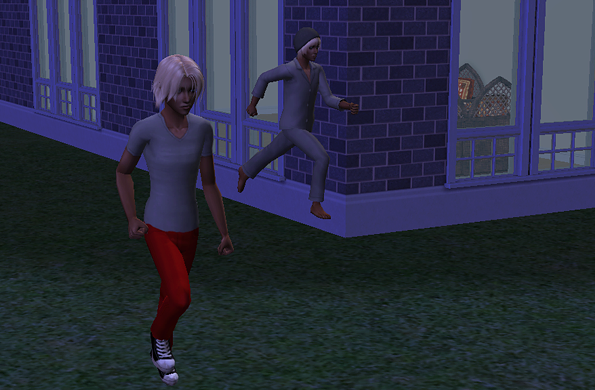 ...Or you can go throw water balloons at 3am in your pajamas. That works too.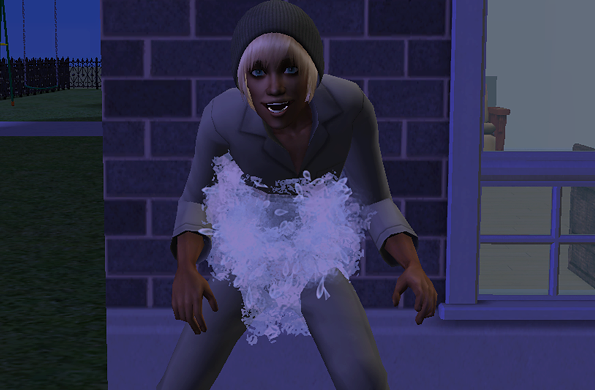 I've never seen someone so happy about water bursting out of their crotch.
Onion
: OH SAY CAN YOU SEEEEE :D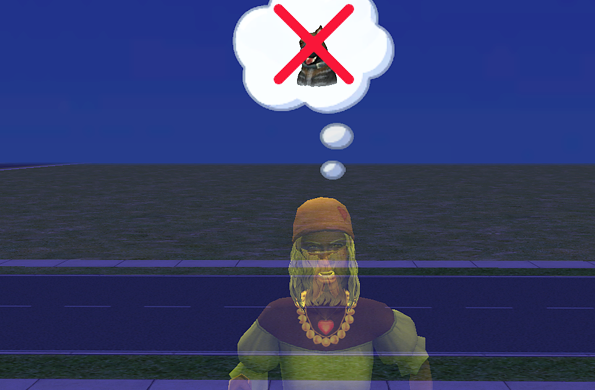 Gypsy Fug
: I'll get you Spoons. And your little dog, too.
Judging by the way he likes to pee on your grave, I wouldn't count on it.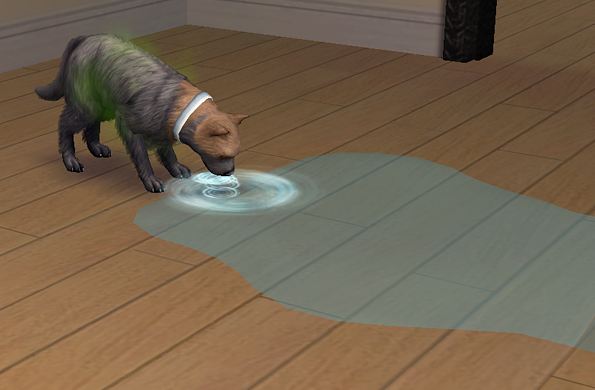 PEANUT.
We do not pee on the floor and then DRINK FROM THE PUDDLE.
And now you also stink. Good job.
Onion! You skipped school, come down and clean this up.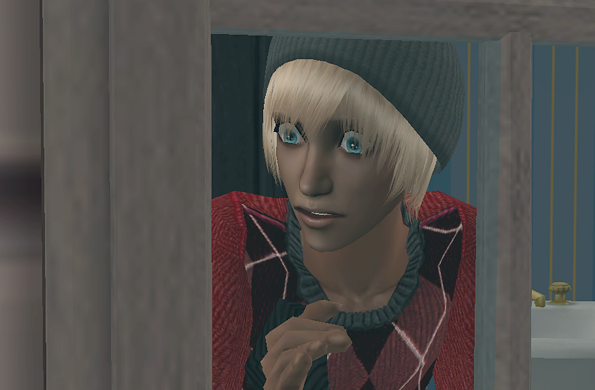 Onion
: Wh-aaat? I...I have to put my hands in THAT?
Yes.
Onion
: You're joking. You've got to be joking. My...nails. I was about to paint them black.
The pee. It will stain them.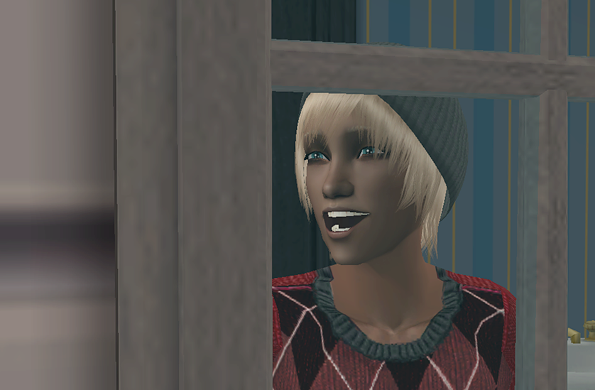 Onion
: AHAHA. That's so cute!
Cute?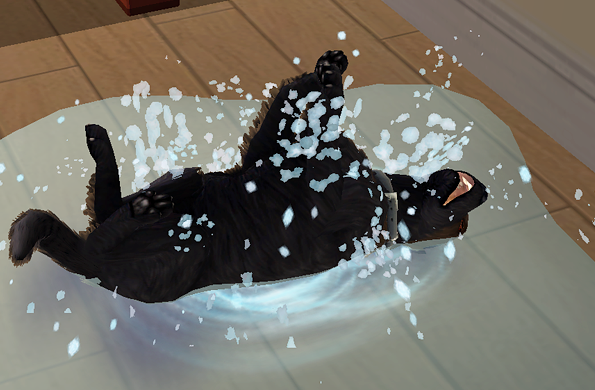 THAT'S IT. BATHTIME.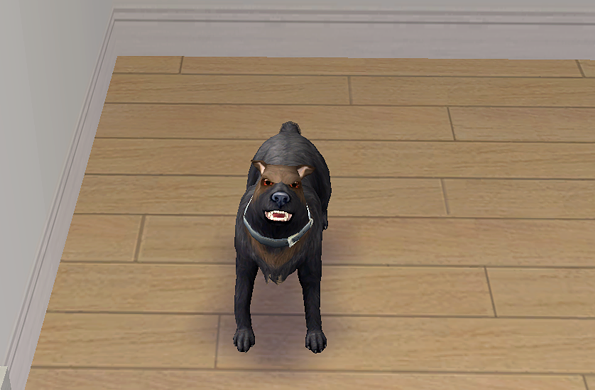 Peanut
: FUCK YOU AND YOUR CLEANLINESS

Right, then. I can't say I'm really surprised.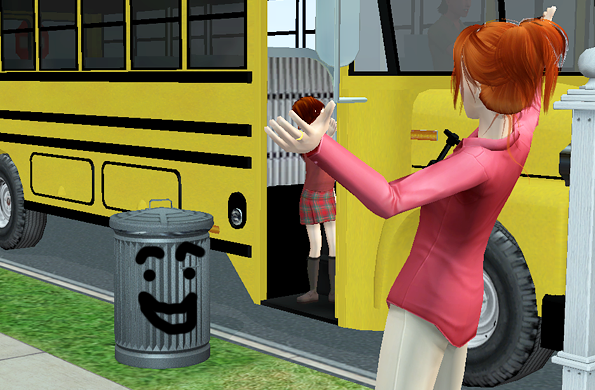 Olive
: TRASHCAN, I'M HOME! 8D
Trashcan
:
oh finally, some action at last >8}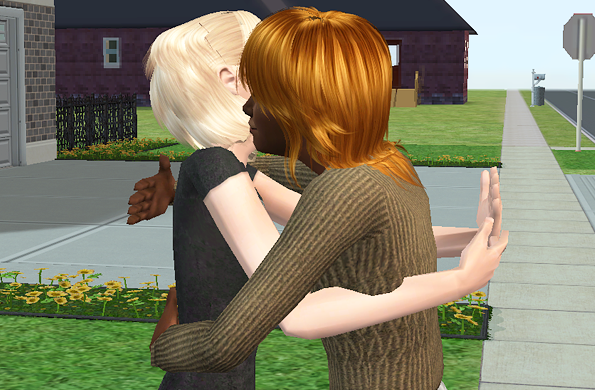 Ginger:
Listen, babe, I'm real sorry for walking away like that. Can you forgive me?
Paprika
: Maybe in a bit.
*attempts to remove his organs with her arms*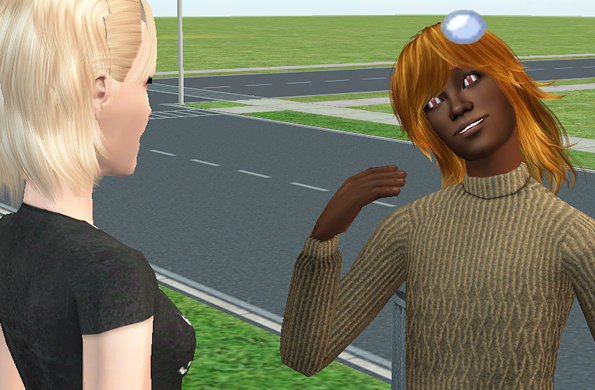 Ginger
: Ooooh, babe. Do that again. @_@
Paprika
: You do realize you no longer have a colon, right?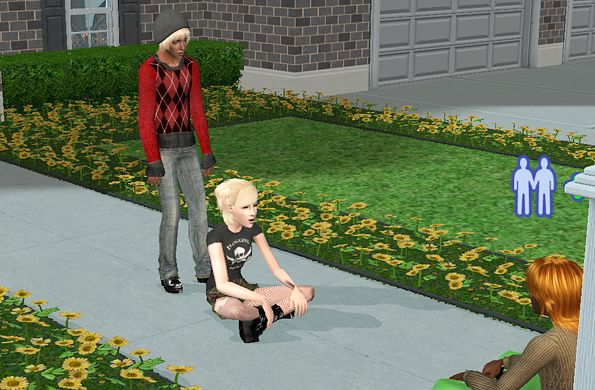 Uh, derping around your sister when she's trying to woo a guy might not be the best idea, Onion.
Onion
: Hurrr.
Ginger
: Look, I can NOT date a girl with a creepy emo brother, okay? I just can't.
Paprika
: Can I wipe my tears on your pancreas?
SERIOUSLY, DUDE. THREE BOLTS. HAVE YOU NOT HEARD OF THEM.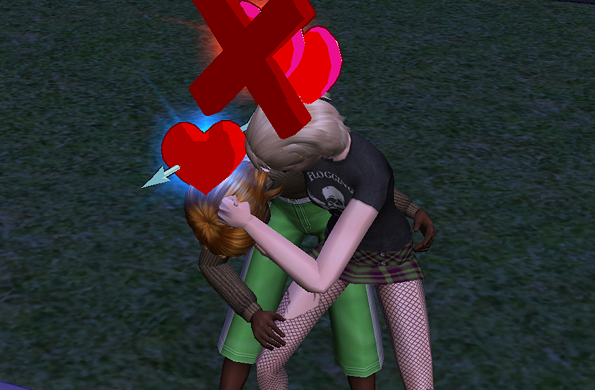 Paprika
: On second thought, get down here. It's braining time.
Ginger
: OH HELL NO. *falls in love*
WTF, GUYS. I DON'T EVEN.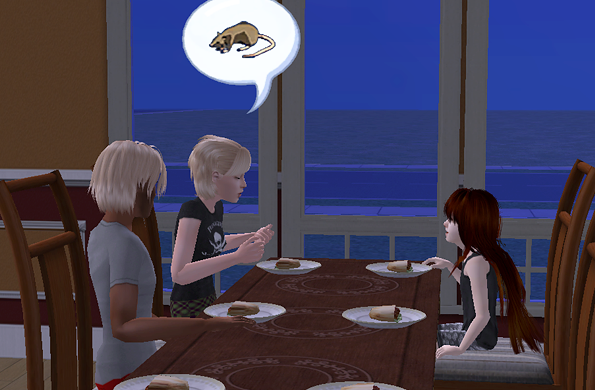 Paprika
: So, Len, when it's your turn to get a guy, find one that doesn't have a rat's brain.
Chives
: So you're saying your guy has a rat's brain and you're still after him?
Lentil
: But if he has a rat's brain, that means I can rule the world through him if he's
influential enough.
Paprika
: You'll do well, grasshopper.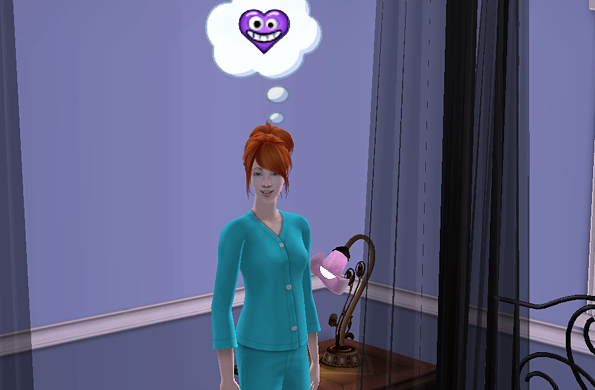 Olive. Calm your ovaries, woman.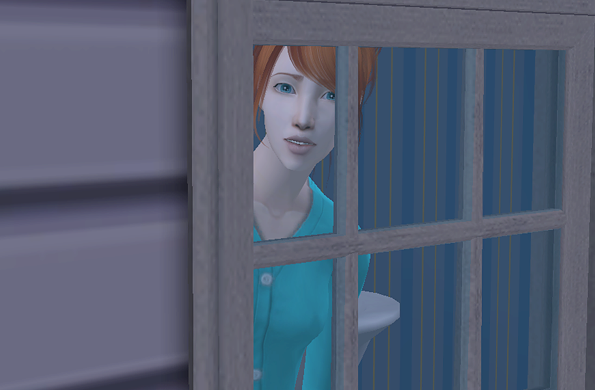 Okay, fine, be adorable. <3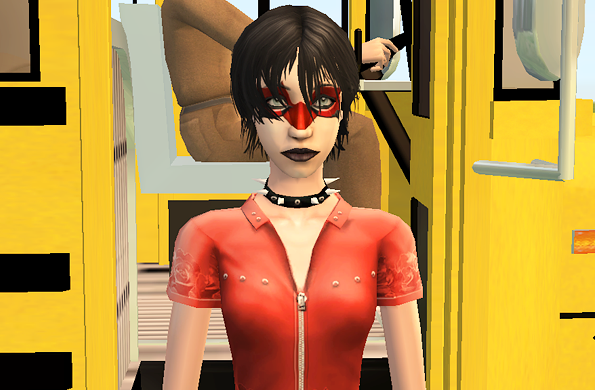 Chives's apparent two-bolter high school SUPERGOTH friend.
What the hell is this.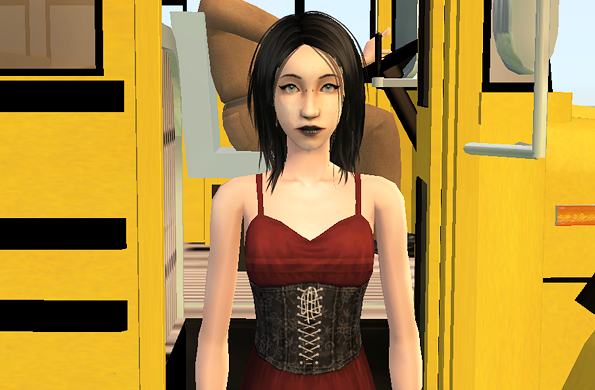 Much, much better.
Just sticking this here because it totally makes a lot of sense.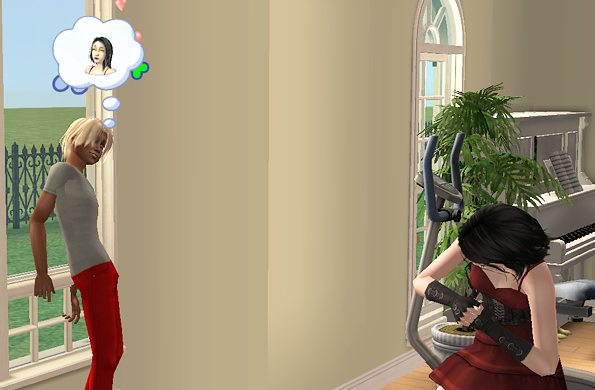 I don't know what kind of dancing you call that, but Chives likes it.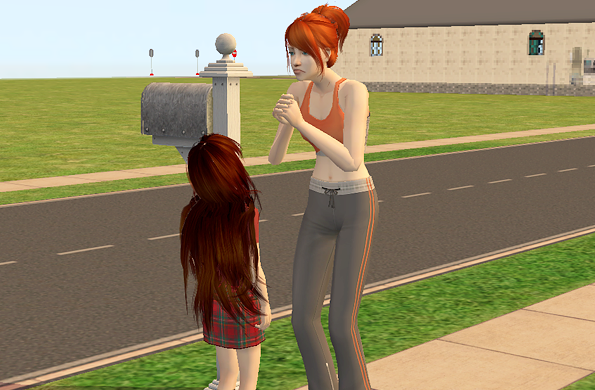 Olive
: Ohh...what if you're my last kid of the legacy? What if I don't get those ten children I wanted? ;_;
Lentil:
Do you want more of me? I know how cloning works.
Olive, you suck at getting promotions and you are NOT having ten kids, so yeah. Calm your tits.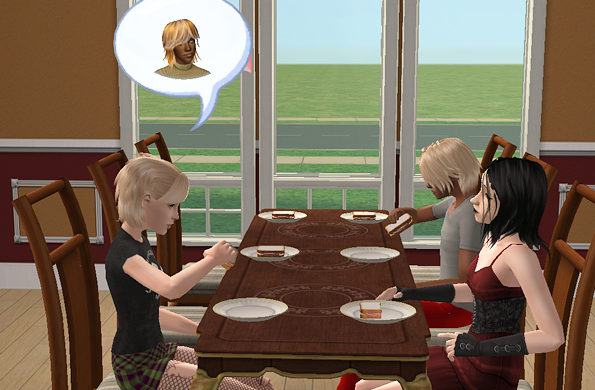 Paprika
: There's this guy I'm into. Ginger, ever heard of 'im? He's afraid to date me.
Miss Goff:
Oh, him. Sweetie, you're barking up the wrong tree.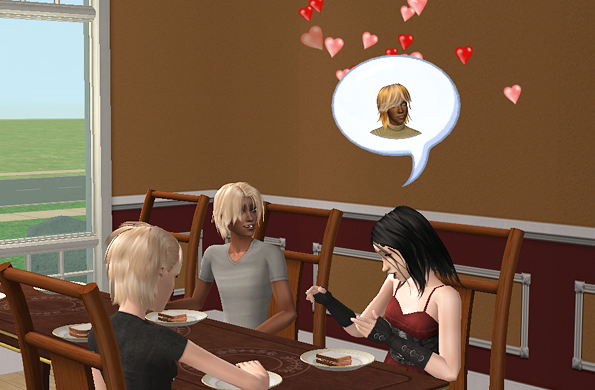 Miss Goff:
He's too dreamy to even consider the less popular crowd.
Chives
: How popular does someone in a turtleneck and gym shorts get?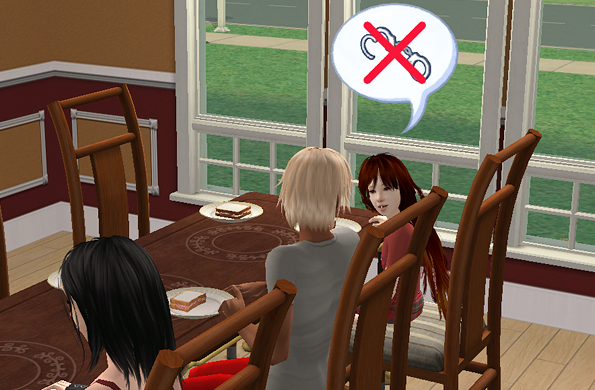 Lentil
: Hey, what was Dad doing with the handcuffs last night? He's not a cop.
Chives
: Oh, no. I'm not treading that bridge EVER AGAIN. Ask Paprika.
Lentil
: Oh, she already told me. I was making you uncomfortable.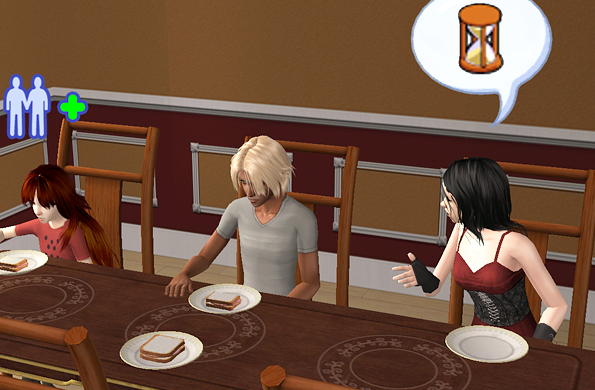 Miss Goff:
Dude, how old were you when
you
found out?
Chives
: It was...a night I'll never forget.
Lentil
: Oh, great. He's going to monologue.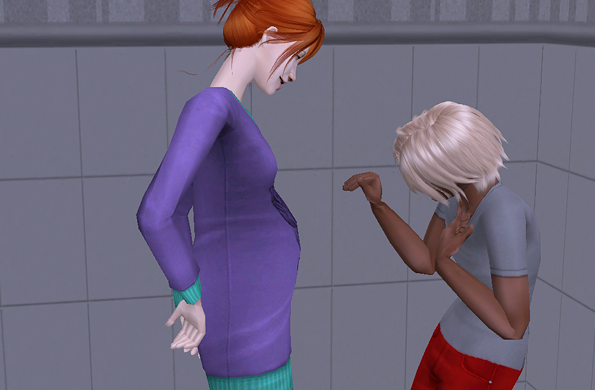 HOW IN THE HELL DID YOU GET KNOCKED UP AGAIN.
Oh, Lentil, you make me love you more every day.
She voluntarily picked up the groceries after no one else in the house would do what I asked them.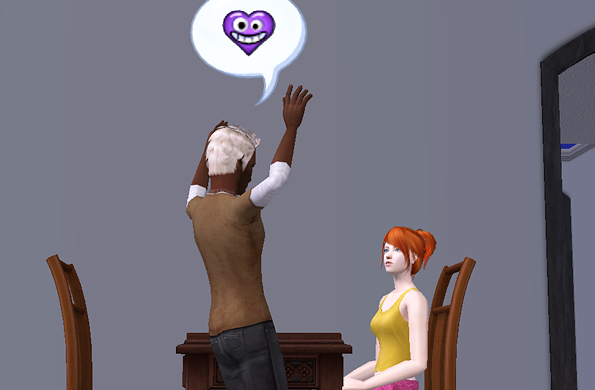 Steven
: WE NEED TO HAVE AWESOME SEX.
Olive
: 8| I'm a little pregnant, if you didn't know.
....You guys? Are rabbits. Pure and simple. Rabbits.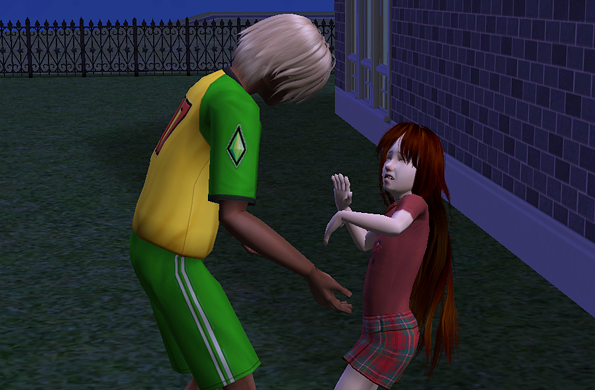 Lentil
: EW YOU SMELL LIKE A TROLL.
Chives
: I was on the bike for only an hour!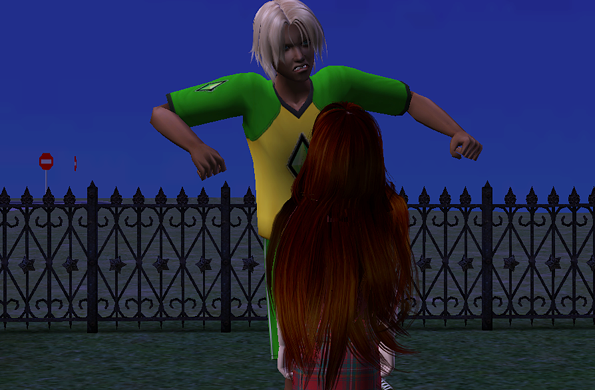 Chives
: LISTEN, you're even bitchier than Paprika! Only you're quieter about it.
WHICH PISSES ME OFF.
Lentil
: I'm sorry?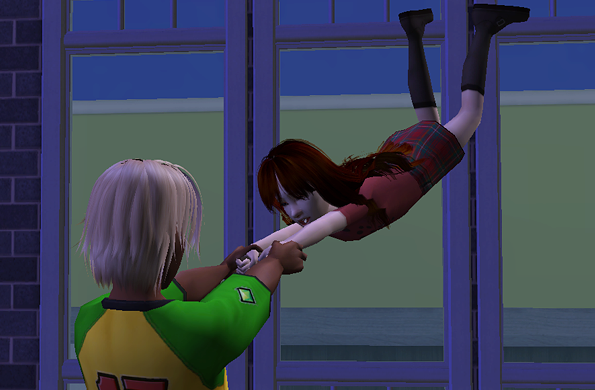 Chives
: I'M GOING TO SWING YOU SO FAR ACROSS THE LAND YOU'LL HIT THE ATMOSPHERE AND DIE.
Lentil
: THIS IS SOOO FUN. 8D
Olive
: It's hatching!
Sigh. Who will it be this time?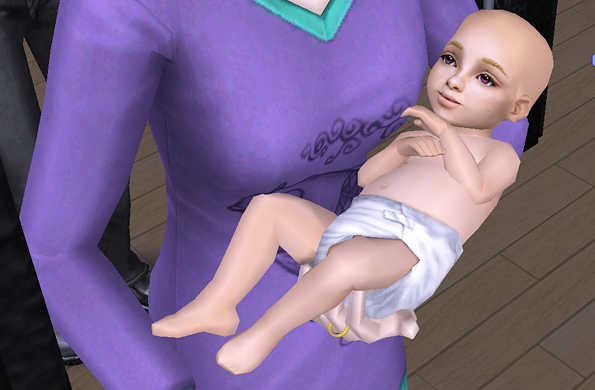 Meet Mustard, with Olive's skin, Steven's eyes and hair, and hopefully the last baby of this generation.
Better be.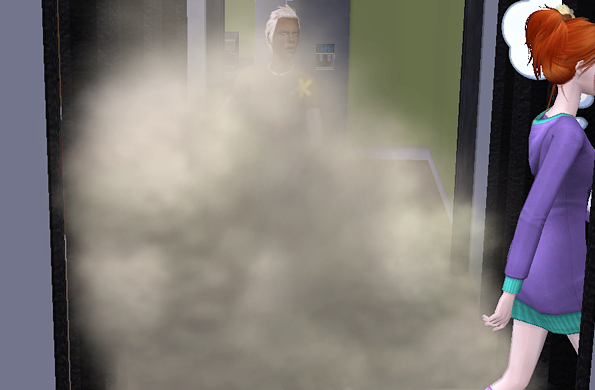 In case you're wondering, that cloud of dust is Chives and Paprika. I honestly don't know how or why they suddenly
hate each other's guts.
Olive
: Right, just don't step in the placenta while you're at it, kids. *vacates the area*
Steven:
Can you guys cut it out long enough for me to get to the kitchen?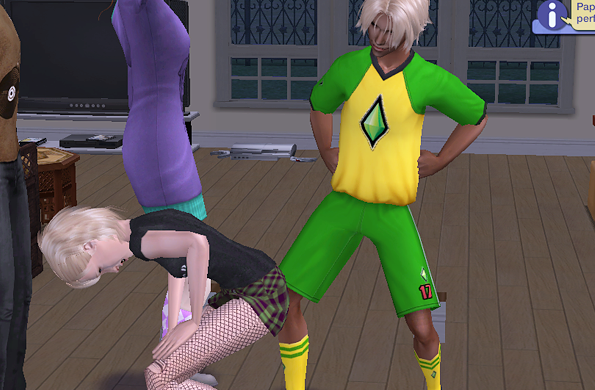 I guess nearly killing yourself each day on the bike pays off, Chives.
And I'm really not sure what Olive's doing back there. Going senile, I suppose.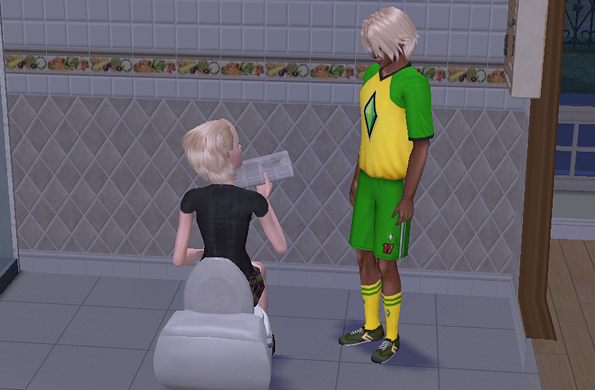 Chives
: I'm watching your every move from now on.
Paprika
: Great, so my colon's next on your hit list?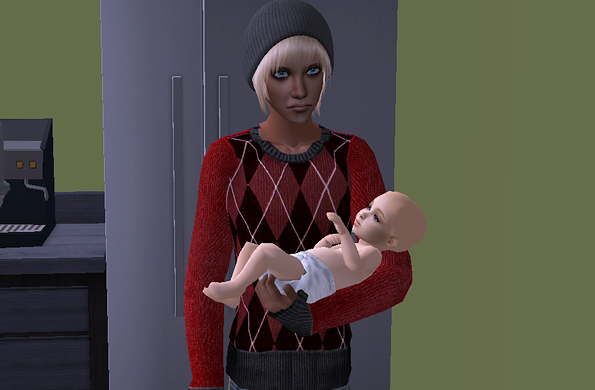 Onion
: I don't know what to do with this. 8|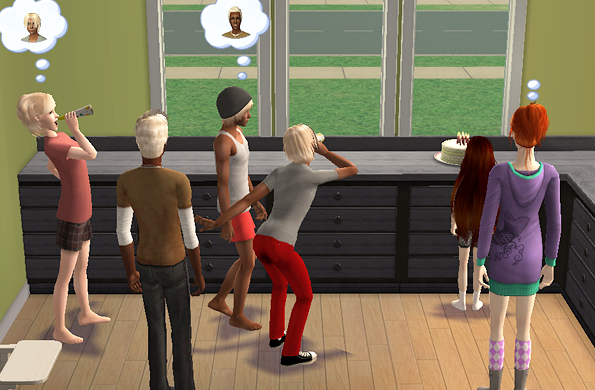 Birthday time for Lentil. And there's an impessively smaller amount of underwear this time.
That. Is. Gorgeous.
She takes a lot from Steven, I think, since she's nothing like Paprika save for the eyes.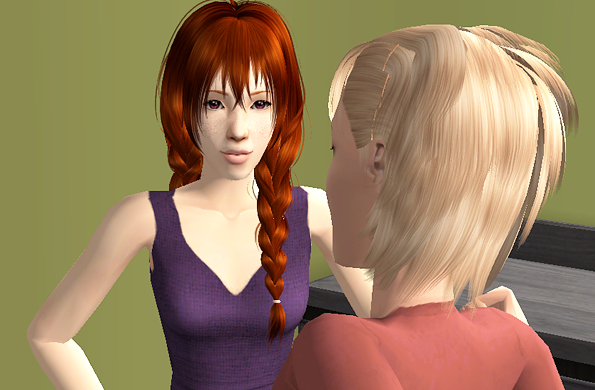 Mini-makeover to give her some freckles like her mother. And now, the moment you've all been waiting for.
COLLEGE.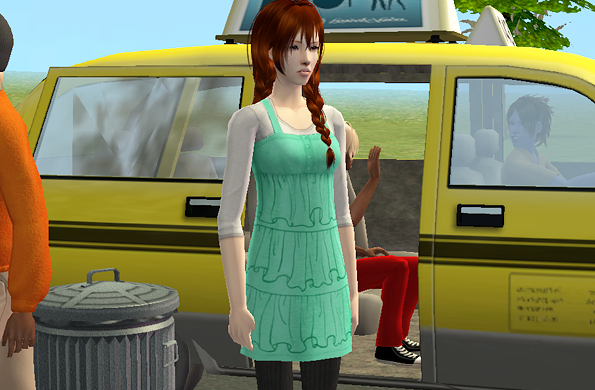 Lentil in her awesomeness manages to spin into a totally perfect outfit right off the bat.
Though it's not really her style.
Lentil
: Jumpers will be burned.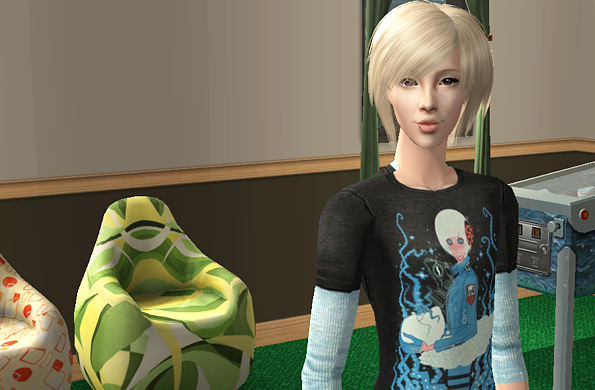 Paprika, with her hair a tad longer and looking cute and badass as ever.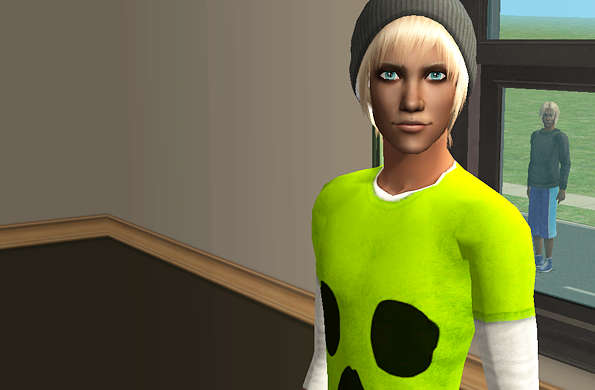 Onion. Oh gosh, he SMILED.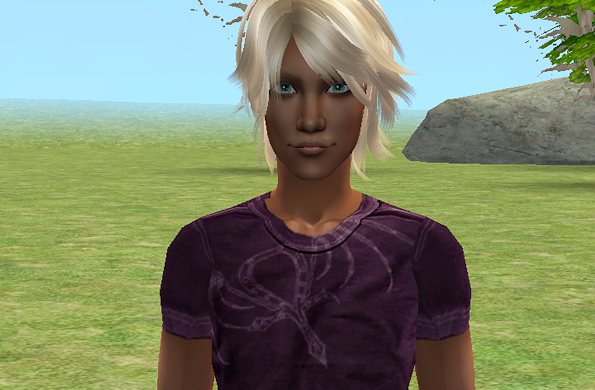 Chives is ready for some lovin'.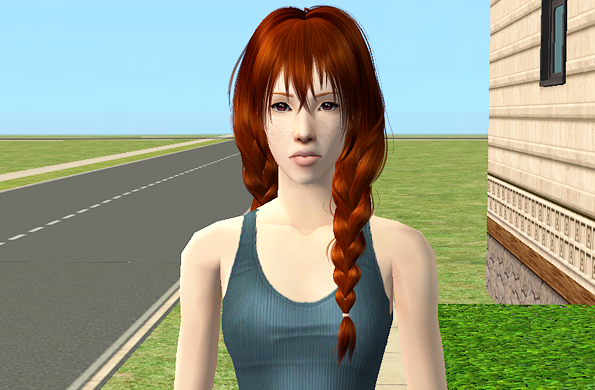 And here's our lovely heir, Lentil Spoon, shown in her usual position of simply not
giving a shit. This is the stuff of awesome. I'll list her stats next update
because I forgot to write them down. -_-
Next time: COLLEGE.
And, you know. Killing dormies and shit.
Current Mood:
cheerful